Rent a room in Ang Mo Kio
Rent a room in Ang Mo Kio and find it with Roomgo. Full of lovely parks, tasty restaurants, museums, and other attractions, Ang Mo Kio is an appealing place to live. With a population of nearly 175,000 people residing on less than 5 square miles of land in only seven neighborhoods, searching for a room for rent can be a difficult task. Happily, Roomgo is available to help you find a room rental in Ang Mo Kio with great roommates that offer the perfect fit for your housing needs. We provide helpful guides, HDB selections, and valuable information through our comprehensive roommate finder service with no agent fee.
Why use Roomgo
Happy roommates stay longer! At Roomgo we care about matching quality.
Find your room
We manually check every room ad on Roomgo to keep you safe. Find your perfect room, discover who lives there and arrange a viewing.
FIND A ROOM
Meet the roommates
See roommates searching in your area and find the right person for your sahred living space. Offer your room directly or wait to be contacted, it's up to you!
POST YOUR ROOM
We're here to help
Roomgo are here with expert tools and advice to help you find the right shared living space for you.
Visit FAQs
Rent a room in Ang Mo Kio
Redevelopment efforts in this city have greatly improved residential options, from HDB selections of condos and apartment buildings to rooms for rent in landed houses. If you're looking for a cheap room, flatshare or single room, and an urban lifestyle with interspersed natural beauty, you can't go wrong with Ang Mo Kio. This highly populated area owes much of its parks and greenery to Singapore's green initiative, and the resulting mix of urban progress and an appreciation for nature makes for a truly wonderful place to live.
Locating a room for rent with no agent fee may be a challenge in the somewhat limited geographic land area of this planned development, but flat sharing is an effective solution for many. This option allows you to take advantage of the many benefits of living in Ang Mo Kio. One such advantage is this city's exemplary public transportation system, where railway and road transport networks abound. You can also avail yourself of the many available hired cars and taxis to get around.
Tertiary education institutions in the area include ITE College West, Nanyang Polytechnic, and Anderson Junior College. There are also a wide range of amenities and facilities in the Ang Mo Kio HDB estate to enhance your enjoyment of the area. Dine in tasty restaurants, swim and exercise in one of the area's sports complexes, and shop conveniently for both groceries and non-food items within the city limits.
Enjoy all this and more through affordable rental options. Explore where to rent a room in Ang Mo Kio with no agent fee through the helpful services of Roomgo. Flat sharing is an excellent way to live, make friends, and more in this attractive city.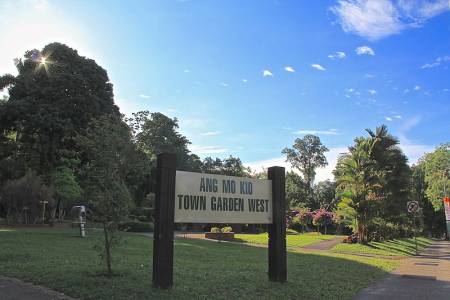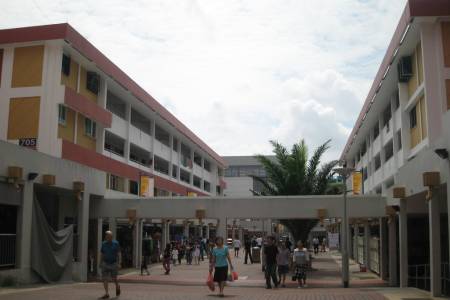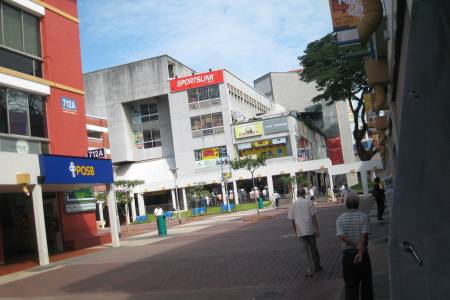 Choosing the right neighborhood when you rent a room in Ang Mo Kio is of paramount importance. Luckily, you have many marvelous areas to choose from with appealing architecture in Ang Mo Kio. Development in this planned city didn't begin until 1973, but it's certainly made up for lost time. As a matter of fact, Ang Mo Kio is the proud recipient of the 1983 Outstanding Buildings Award from the Singapore Institute of Architects (SIA). And former Prime Minister Lee Hsien Loong may have helped to put this city on the map with its PAP Group Representative Constituency (GRC).
This Singapore satellite city holds major appeal to many looking for a house to rent due partly to its generous parkland areas, the Ang Mo Kio Town Gardens West and East, and the Bishan-Ang Mo Kio Park. These recreational community parks offer exercise, photography opportunities, education, art, bird watching, support for conservation efforts, and the ability to enjoy nature while still residing in a convenient suburban setting.
The city's Hub is another appealing draw. This large shopping mall contains everything you could desire in one location when looking for a room to rent in Ang Mo Kio, from dining and entertainment to banking, beauty, and spa services. The Dijitsun Mall and Jubilee Square offer additional shopping options.
This city isn't overrun by tourists either, making it ideal for locals or expats eager to settle in and enjoy their city without overwhelming crowds, stalled traffic, and other touristy deterrents. Residential options are numerous, but the excellent public transportation system makes it easy to travel into the city for more adventurous recreation and nightlife.
One characteristic of Ang Mo Kio that you will learn about quickly when living there is the strong community spirit, especially when you live with roommates in Ang Mo Kio. The city supports an influential town council that encourages community involvement and fierce bonds and hosts the Nanyang Polytechnic. This institute is located in the Yio Chu Kang precinct, in the Eastern part of the city.The communal vibe coupled with the extensive retail and dining options, and the plethora of wide open recreational parkland makes the decision to live in Ang Mo Kio a pretty easy one, both for students and young professionals.
The potential of living in this higher-end area is greatly improved by taking advantage of flat sharing options for rent sharing. With Roomgo, finding a room for rent in Ang Mo Kio couldn't be easier. Our simple, yet helpful service charges no agent fee, yet provides you with a wide range of affordable rental options to help you locate your next home in this vibrant city. Whether you require your own in-room bath, high-rise living, or a simple and small study area, Roomgo is an invaluable resource for your search.
Stats about roommates looking in Ang Mo Kio
Male roommates
50%
Female roommates
50%
Professionals seeking rooms
100%
Stats about room rentals in Ang Mo Kio
Room listings with photos
57%
Happy to live in a mixed gender place
43%
Average roommate budget
$1,500
Average room price
$1,267
Monthly prices by rent type in Ang Mo Kio
Rent a double room in Ang Mo Kio
$636
Rent a furnished room in Ang Mo Kio
$666
Over 50,000 landlords trust Roomgo
Roomgo is the largest online roommate community, helping landlords and agents with portfolios of rooms, single rooms for rent, studios or other shared rentals. We check every listing and make it quick and simple to find great roommates you can trust. Since 1999, our service has created over 5 million room rentals worldwide.
The world's largest roommates network
1000s of new roommates every week
Get genuine enquiries from qualified roommates