Rent a room in Singapore
With more than 5 million residents, Singapore is a heavily populated country. This sovereign city-state is a popular tourist destination and an exciting place to live. It serves as a hub of finance, commerce, and transport on a global scale. The popularity of Singapore can make searching for a room rental difficult without the proper assistance. Fortunately, Roomgo can make your search much easier. You can rent a room in busy Singapore with a minimum of fuss through our services with no agent fee. Turn to our helpful guide to locate a room for rent, HDB, houseshare opportunities, and other rooming options to meet your needs.
Why use Roomgo
Happy roommates stay longer! At Roomgo we care about matching quality.
Find your room
We manually check every room ad on Roomgo to keep you safe. Find your perfect room, discover who lives there and arrange a viewing.
FIND A ROOM
Meet the roommates
See roommates searching in your area and find the right person for your sahred living space. Offer your room directly or wait to be contacted, it's up to you!
POST YOUR ROOM
We're here to help
Roomgo are here with expert tools and advice to help you find the right shared living space for you.
Visit FAQs
Search rooms and roommates in top neighbourhoods
504 rooms for rent in Singapore
Rent a room in Singapore
Despite its dense population, Singapore offers a great deal of beautiful open spaces. More than 50 percent of this area's geographical region is covered in parks, nature reserves, and other green areas. This exposure to nature is only one of the many reasons to live in Singapore. This city-state boasts superior healthcare, low crime rates, quality educational institutions, and convenient public transportation. And if you're a fan of warm weather, Singapore's tropical climate is just the ticket.
Whether you're focusing exclusively on your studies, or you want to soak up the atmosphere of this area, Singapore is a great spot for young professionals and students. The economy is thriving with several employment opportunities for driven, bright, gifted individuals with the ambition to succeed. Students can choose from 6 public universities. The Nanyang Technological University located in the southeast area and the National University of Singapore more directly south are two of the top 20 universities across the globe. Students can rent a room in Singapore near one of these two universities or any of the other options for convenience and accessibility. Singapore room rentals are an excellent way to make new friends, learn about the area, and help you settle into campus life at your chosen university. Roomgo makes finding a room for rent with no agent fee a realistic goal.
In the center of Singapore, you will find cultural and ethnic heritage sites throughout the city of Chinatown. This city is made up of four sub-areas that were developed in the 1820s, 1830s, 1900s, and 1920s. The architecture is a delight, mixing the influences of Victorian and Baroque. With much to see and do, residents move about easily via the Mass Rapid Transit (MRT), which serves most of the area. Temples, shrines, museums, galleries, markets, shops, and sky-high views of the city abound.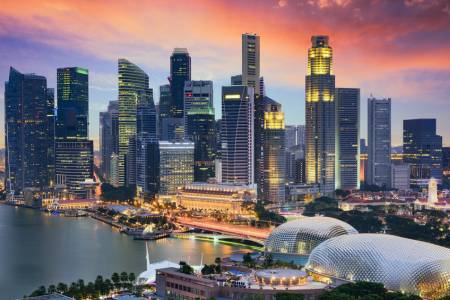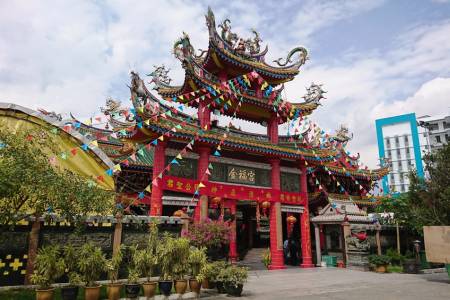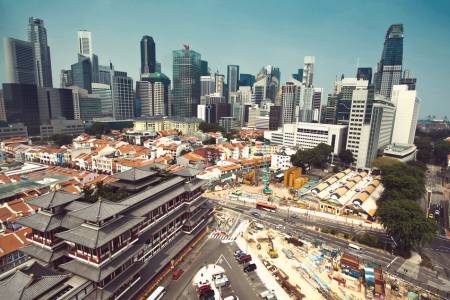 Your search for a room for rent is best initiated with a plan. Detail the area you wish to live in and the area features or options you need for your new room rental. Students quite naturally will want to be located near their universities. Access to public transportation is often a necessity as well. Look at other benefits too, such as proximity to markets, entertainment, and shopping. Consider the overall atmosphere of the neighborhood and HDB suburbs. Are you looking for a funky, fun vibe or a studious, quiet location? Review all these considerations through Roomgo with no agent fee.
For those of you with a taste for an eclectic inner-city vibe, consider a room rental in Everton Park. This is an HDB suburb positioned southeast of Chinatown. You'll enjoy a hip feel, numerous shopping and dining options, and small notes of tradition blended with progress. It's easy to search for an Everton room for rent with no agent fee through our roommate finder website.
For a more luxurious living experience, look at houses for rent in Sentosa. This resort-island offers flatshares near the water at premium prices. By taking advantage of a room for rent in this upscale tropical tourist location, you can enjoy the beach life, casinos, shipping malls, theaters, museums, and even a theme park. If the island life is out of your price range, you may do better locating a cheap room in Singapore by perusing more Chinatown suburb and HDB options. The former red-light district of Keong Saik has a reputation for its ultra-cool atmosphere. It even boasts a speakeasy. This Bukit Pasoh Conservation Area location is a haven for hipsters and other young people who enjoy trendy living. Not into the mega-hip vibe? No problem. Singapore has many other options. Another lovely Chinatown suburb, perfect to rent a room in with no agent fee, is Tiong Bahru. This small suburb has a village feel with lots of retro accents. You and your flatmates will happily soak in its charm while dining, shopping, and enjoying its numerous cultural offerings.
Allow Roomgo to help you locate a single room, flatshare, roommate or other convenient living accommodations in Singapore. You'll find numerous rental options with no agent fee. So, come view the many and varied options to rent a room in Singapore in a neighborhood best suited for your needs.
Stats about roommates looking in Singapore
Male roommates
54%
Female roommates
46%
Professionals seeking rooms
72%
Students seeking rooms
13%
Stats about room rentals in Singapore
Room listings with photos
76%
Happy to live in a mixed gender place
59%
Average roommate budget
$1,403
What roommates look for in Singapore
Double beds
1%
Furnished rooms
3%
Monthly prices by rent type in Singapore
Rent a double room in Singapore
$472
Rent a furnished room in Singapore
$824
Rent a short term room in Singapore
$150
Over 50,000 landlords trust Roomgo
Roomgo is the largest online roommate community, helping landlords and agents with portfolios of rooms, single rooms for rent, studios or other shared rentals. We check every listing and make it quick and simple to find great roommates you can trust. Since 1999, our service has created over 5 million room rentals worldwide.
The world's largest roommates network
1000s of new roommates every week
Get genuine enquiries from qualified roommates